Fingerprint payment project in Sanitas with a 4.0 version of carmen pos software
In Spain there are over 2 million fraud cases related to the fraudulent use of credit cards and Central Europe Bank pointed out a vertiginous growth trend in all the Euro Zone.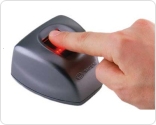 Some financial entities in the United States and South East of Asia have begun some initiatives that include biometrical identification in the client validation. Senshu Bank in Osaka, has an ongoing project to issue credit cards with traditional validation and also with complementary fingerprint validation. One step further, Sugura Bank, has installed a cash network with biometrical identification where the clients only has to put his hand over to indentify himself. No credit card is required.
In Spain, a pioneering project with carmen software systems has put Spain in the head of this type of technological projects of fingerprint payment applying it to the payment in Sanitas cafeterias and other intern services of the company. In this project each employee has his own internal current account with a balance which can be used to pay for a service or product in the cafeteria or to recharge the balance, in every tactile terminal where carmen wks 4.0 software has been installed.
The fingertrip readers integrated in camen wks 4.0 software used in this project are patented by SAGEM, a maximum reliability device, used at first for biometrical identification in military sector and now, free to use in civil sector. The software deployed can not be easily cheated, plastic mould or photos will be rejected by the system because of the lack of heat and blood flow. This is also ensures that the user is a living person, nor an amputated limb or a plastic or gelatine mould.
Right now, the system developed over carmen wks platform validates daily thousands of transactions in Sanitas with no errors. Some national banks are following this project of biometrical identification very interested in the high levels of precision, security an roughness of the developed systems and its possible applications in the bank sector.


Carmen pos version 4.0 also integrates with Labware�s Nano wireless hand held terminals for restaurants. - GR-Software incorporates the technology of this rough terminal in the project carmen wks 4.0�