Carmen pos version 4.0 incorporates Labware´s NANO wireless hand held terminals to improve orderings in cafeterias and restaurants.
Smiralles has signed a global agreement with the Italian manufacturer Labware, adding in the version 4.0 of the software carmen pos the new Nano hand held terminals for ordering in hospitality business.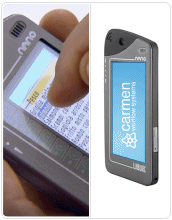 This software release adds all the functions needed in an ordering terminal, deployed in a very easy and effective way. Thinking all the time in the client necessities, with all the power but not complicating the processes required.
This terminal is extremely light, just 90 grams and 130x67x9mm, with 16 hours battery life and quick charge in just 3 hours. It is water-proof and shock resistant.
Carmen software IT development team has bet in this terminal because of its specific character as ordering terminal, ideal for our software solution much more efficient than other generic terminals or PDA´s also available in the market but more limited and way too far away from carmen wks expectations and requirements.