carmen pos for bakery & cake shops is one of the new generation of management and point of sale software with a radically different interface joining the best features of the old scales and the great advantages of managing software and touch screen software for shops. This hybrid design simplifies the work in your bakery, workshop and orders in your oven, allowing self-management in the different areas and turning difficult tasks in a child´s play: sales tracking, comply with traceability standards, stock control for one or various bakery shops, purchase orders, gift-tickets, loyalty or client cards… carmen Point of Sale Software for bakery shops is the smartest and easiest pos software in the market.
Overall. Easy to use. carmen wks bakery software has been designed since the beginning, to be easy to use for everyone, with no age or knowledge limitation. This feature allows you to reduce the inconvenient of staff turnover and training times.
A search engine similar to "google" can find any article quickly. The search group feature allows you to find any article in de DB at any time since the moment of the creation of this register.
carmen wks joins together the best features of the touch screen technology and of the electronic scales. Its universal Scale Connection Module will allow you to connect the scales to your POS simplifying the ticket issue from the tactile terminal in your shop or when preparing any orders for other clients such as restaurants, cafeteria, hotels....
Easy Access Keys for 80/20 articles. The bakery point of sale system has a self-managing group of access keys for easy access for the best selling references, your best selling products will always be available in a very intuitive way.
Invoicing and Ticketing in the same Touch Screen Terminal. The revolutionary carmen 4.0 pos for bakeries interface creates easily and fast a ticket and turns it into a client invoice in just a second. You can also manage from the tactile terminal received material from provider, manage delivery notes, invoices, payments… everything done easily and intuitively.
Stock information always visible in the buttons. Your available stock information is always visible in the button of the product and by just pressing and holding the button it also shows your actual stock, pending of arrive, reserved stock, etc.
Tele-Deployment. carmen point of sales software for bakery is so easy you will not need a technician during the installation process. You can opt for a teleprensence guided installation, more economic and efficient. And you can also contact one of our technicians if needed.
Try for free the bakery pos software carmen wks 4.0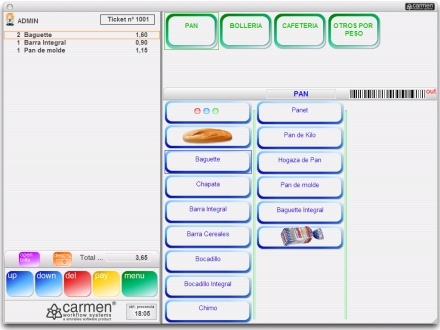 We are so sure that our Bakey Point of Sales system will improve the efficiency and profits of your business that we have left open a feature to assure the present or future possibility to manage more than one bakery in a centralized mode. Well known consultancy companies in Europe and UUEE specialized in franchise management and control and management software have selected carmen wks 4.0 for its easy to use interface, flexibility and power in data centralization. carmen pos software also guaranties the traceability of your products, SMiralles Software Engines is the global leading software developer of traceability and food safety software, ilEAN TracingPack
carmen workflow systems deployment options.